Broadcast News
26/07/2012
Facilis Rolls Out Terrablock 5.6 With Support For 3TB Drives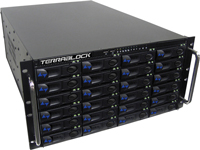 Facilis Technology, a leader in advanced shared storage solutions for post-production and content creation, today announced the release of TerraBlock version 5.6 with support for 3TB drives. The new version also includes enhanced Ethernet client performance for the DPX workflow and new administration features that make it easier for post production professionals and content creators to streamline and manage the flow of data. For a limited time, Facilis is offering sales promotions tied to the release.
TerraBlock is Facilis' multiplatform, high-capacity shared storage solution that complements collaborative workflows in standard non-linear editing systems such as Avid® Media Composer®, Apple® Final Cut Pro® and Adobe® Premiere Pro®. Coupled with the Facilis Shared File System, which supports 4Gbps and 8Gbps Fibre Channel and 1Gbps and 10Gbps Ethernet, TerraBlock allows users to leverage existing infrastructure, while offering the flexibility of high-speed, scale-out technology at an affordable price. TerraBlock version 5.6 highlights include:
• 3TB drive support and new 72TB 24D model
• TerraBlock Manager username / password authentication
• TerraBlock Manager support for non-Admin Windows Users
• Multi-user write volume expansion from the client workstation
• Higher performance 10Gb and teamed 4Gb Ethernet configurations
• Support for Mac OS 10.7.4 Update
"We're pleased by the overwhelming response to TerraBlock 5.5 and the adoption of the product we've seen to date. Version 5.6 is a continuation of our efforts to bring professionals expanded capacity, functionality and capabilities that will advance their day-to-day operations," said Shane Rodbourn, Facilis SVP/General Manager. "The value proposition for TerraBlock 5.6 is strong, especially as we continue to partner with some of the industry's leading technology innovators to support new, efficient workflows."
Facilis will offer sales incentives for TerraBlock 5.6 until the end of 2012 including:
• 20% off TerraBlock trade-ins over 3 years old
• 20% off drive capacity upgrades
• $5000 competitive trade-up credit toward a new TerraBlock 24D and 24EX models
For more information and a full list of features, please visit:
Facilis Products
Top Related Stories
Click here for the latest broadcast news stories.