Broadcast News
31/05/2012
Aden Hynes Sculpture Studios Scores With Mount Rushmore Commission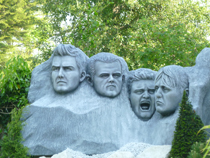 Aden Hynes Sculpture Studios has been commissioned by Taylor Herring PR Group to create a garden feature sculpture, resembling Mount Rushmore but depicting iconic footballers.
The selected stars were chosen by vote, with 2000 sports fans asked which footballer they felt had most contributed to the national team over the past 25 years, and the top four results were included in the sculpture.
The original Mount Rushmore in South Dakota, USA portrays the faces of past American presidents and is a famous, instantly recognizable landmark.
Within the sculpture, Paul Gascoigne's face is a water feature, with a continuous flow giving the appearance of him crying à la the 1990 World Cup.
Sculpture Studios created the sculpture from clay and fibreglass with a concrete render so it could stand outside for many years. It is currently situated in London, awaiting a new owner who will be selected following a competition held by the National Lottery.
"As a sculptor I really enjoyed creating this piece. It's always a pleasant challenge to make something that contains so many recognizable components as this. If I were an enthusiastic football fan, I would love to win this sculpture, especially for its element of fun and its uniqueness." said Aden Hynes.
www.sculpturestudios.co.uk
(GK)
Top Related Stories
Click here for the latest broadcast news stories.