Waveform Monitors Sponsors

Omnitek manufacture a range of different video Test & Measurement products supporting the testing of SD through to 4K video formats over SD-SDI to 12G-SDI physical interfaces. Omnitek's Test & Measurement products cover manufacturing, QC and Compliance, Grading and many other applications.
Waveform Monitors Companies
In Surrey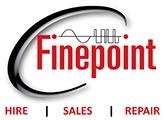 Finepoint Broadcast has been supplying broadcasters with a wide range of production and OB equipment for over 35 years. This has always been complimented with a unique blend...