Company:
Spiritland One Outside Broadcasting
Address
9 – 10 Stable Street,
London,
N1C 4AB,
UK

About Spiritland One Outside Broadcasting
Spiritland Productions was founded by ex-BBC live music engineers Gareth Iles and Antony Shaw with a combined 25 years experience mixing live music for broadcast. Antony and Gareth formed Spiritland productions in 2018, working as mix engineers on other trucks and running a speech based recording studio in Spiritland KX. In late 2018 they designed a new Audio OB truck from the ground up with no compromises to deal with the most demanding gigs with redundancy and resilience as key principals.

Spiritland ONE was born out of years of experience working on stages like the Pyramid at Glastonbury, designed to operate in an environment where every band brings a different console and interfacing needs to be straightforward. The console is an SSL System T S500, with 1024 inputs and redundant T80 engines, it has redundant 256 channel multitrack capability as well as multiple stereo recorders. As part of the standard stage load SL1 carries 128 SSL mic preamps, 6 x MADI with SRC and 2 x HDSDI in each direction, also included in the stage deployment are Reidel Bolero Comms and Wifi extended from the truck. As well as getting the best possible monitoring for stereo mixing we have paid a lot of attention to immersive audio formats like Dolby Atmos, with it's 7.1.4 monitoring array Spiritland ONE takes surround mixing to the next level. SL1 offers a Viprinet VPN2620 for connectivity, a bonding router with 4 x LTE/4G sim cards plus two WAN, we can also supply Comrex Access units if required.

We work throughout the UK and Europe offering live mixes, broadcast solutions, derig recording rigs and experienced crews.

Get in touch about your next production, we promise great audio, good vibes and amazing coffee!
Find Spiritland One Outside Broadcasting in
Location of Spiritland One Outside Broadcasting
Outside Broadcasting Sponsors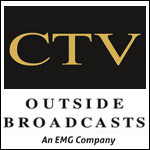 Outside Broadcasting
HD Outside Broadcasting
High Definition Outside Broadcasting
Leading Outside Broadcasting fleet UK and Europe
Contact us 020 8453 8989
Neon Broadcast Services provide location television facilities to television production companies and broadcasters, both terrestrial and satellite, throughout the UK and overseas. We offer a top level of freelance television professionals.
SIS LIVE can cover any event quickly and completely. Our approach to Outside Broadcast means we can offer you an unrivalled service. Specialist cameras, customised production units, mobile editing suites, HD transmission – when you need it, the largest fleet in Europe will be ready.