Company:
Elite Chauffeur Services Scotland Ltd
Address
Unit 3 Bankhead Workspace,
Bankhead,
Edinburgh,
EH11 4DY

About Elite Chauffeur Services Scotland Ltd
Elite are a company specialising in transport for TV and Film productions. Based in Edinburgh we are able to offer a comprehensive service across Scotland, with over 22 years' chauffeuring experience behind us we can offer a complete chauffeuring & transport service from VIPs to crew units.
We have our own fleet of Mercedes saloons & MPVs together with Range Rover 4x4 vehicles and can provide all your transport needs from Unit Cars, MPVs to 4x4 and luggage vehicles in addition to extra drivers as required all operated under our very high standard of service and expertise.
We are the chosen company to provide our services to the Media Guardian Edinburgh International Television festival and the Radio Forth awards.
All our drivers are helpful, discreet and courteous and are experienced in the TV and Film media industry. They have a good knowledge of ''movement orders and call sheets'' and the ability to undertake instructions effortlessly from ADs, runners and transport co-ordinators.
We have many years' experience in conveying cast and crew members to and from set and base, including picking up and dropping off costumes, prop equipment, travelling to and from locations with important documents etc.
Our drivers enjoy being part of the film unit and very quickly become part of the team and nothing is ever too much trouble to help with the smooth running of the filming.
We are available for contract and daily work with a professional, reliable and prompt service. All our vehicles are fully insured for working on TV and Film productions with comprehensive public liability insurance & goods in transit insurance.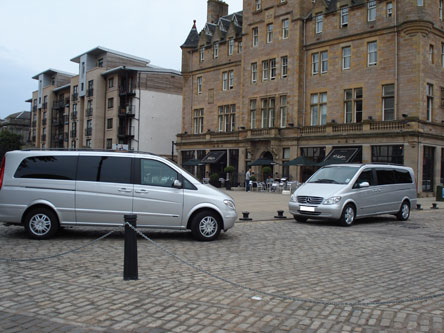 Find Elite Chauffeur Services Scotland Ltd in
Location of Elite Chauffeur Services Scotland Ltd
Transport - Vehicles Sponsors

Crew Transport, Unit Cars for the TV and Film industry.