Company:
NEP UK - Outside Broadcast Facilities Company
Telephone:
+44 (0)1344 356700
Address
V3 VPark,
Lovelace Road,
Berkshire UK,
Bracknell,
RG12 8GU,
England Uk

About NEP UK - Outside Broadcast Facilities Company
NEP UK is one of the largest OB providers in Europe with over 25 years' experience in delivering first class outside broadcasts.

NEP UK has a highly skilled core staff of Unit Managers, Vision/Audio Engineers, Cameramen and Cable Riggers who are capable of delivering outside broadcasts of any size whether you need 2 cameras or 92 cameras. This, together with a range of lightweight, fast assembly fly-pack kits, NEP UK can provide clients with continuity of facilities and crew at any televised event almost anywhere in the world.

NEP UK employs some of the most experienced and well qualified engineering crew within the outside broadcast industry. As a result, we are able to offer tailored and often complex engineering design solutions to our clients who rely on our expertise and have confidence in our ability to deliver on our promises.

We are known throughout the industry for the variety of work we undertake - music, light entertainment and numerous high-profile sporting events. This is only made possible because of the incredible skill-sets of the staff who work for us. We employ approximately 80 staff and in excess of 50 of these are responsible purely for the technical delivery of our outside broadcasts.

We pride ourselves on employing some of the best expertise in the industry within our in-house Engineering department and this has enabled us to undertake the design and build of our HD fleet ourselves over recent years. We also have a team of very experienced in-house camera operators who undertake a wide variety of work - music, light entertainment and sport.

In all our departments, whether it be Vision, Sound, Rigging or Production Co-ordination, we have a highly talented bunch of people who work hard to deliver the best possible service to our clients. They continue to provide many of the best-planned outside broadcasts both here and abroad which often require innovative engineering and design solutions.

We believe the quality and expertise of our staff is unrivalled within the industry and it is thanks to them that Visions is able to deliver the quality of service that it does in broadcast production standards week in and week out.

Twitter Feed

Facebook Feed
Find NEP UK - Outside Broadcast Facilities Company in
Location of NEP UK - Outside Broadcast Facilities Company
Outside Broadcasting Sponsors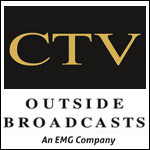 Outside Broadcasting
HD Outside Broadcasting
High Definition Outside Broadcasting
Leading Outside Broadcasting fleet UK and Europe
Contact us 020 8453 8989
Neon Broadcast Services provide location television facilities to television production companies and broadcasters, both terrestrial and satellite, throughout the UK and overseas. We offer a top level of freelance television professionals.
SIS LIVE can cover any event quickly and completely. Our approach to Outside Broadcast means we can offer you an unrivalled service. Specialist cameras, customised production units, mobile editing suites, HD transmission – when you need it, the largest fleet in Europe will be ready.