Company:
Light and Motion UK
Telephone:
+44 (0)1423 329 197
Contact:
Stephen Mawle MD
Address
River Cottage,
Roecliffe,
North Yorkshire,
YO51 9LY,
England

About Light and Motion UK
Light and Motion Underwater Video and Lighting Equipment
www.lightandmotionuk.com
SALES-SERVICE-HIRE
Light and Motion UK offer a complete range of state of the art Light and Motion underwater video and lighting technology from the industry's leading innovative manufacturer. We supply worldwide.
We supply, service and hire everything from 'entry level' forward compatible generic flat port Stingray housings to our Pro-Spec Bluefin housings for the Sony XR520 / 500 and Cannon HFS10 /S100 camcorders. Our Sunray LED 1000 and 2000 lighting technology offers the highest output / per Kg of any Video Lighting system on the market and our 90 or 110 degree underwater wide-angle Fathom lenses are world renowned for their full zoom capability and sharp image clarity.
We make great gear because we dive with and use it ourselves and no one is more demanding than our own design team when it comes to user friendliness and quality of build. Our unique mix of ergo dynamic electronic redundant IR control handles and reliable simple manual control buttons, means that using our equipment underwater quickly becomes second nature, allowing the operator to concentrate on capturing the subject to video, without fumbling for hard to reach traditional control rods.
With weight becoming increasingly important for economical travel to location, all our kit is designed to be compact and as light as possible.
Gone are the days when you needed a crane to get the housing in the water!
Now our complete systems of housings and lights (Travel Packages) can be carried onboard as hand luggage. We use Pelican 1520 cases which have been approved by many airlines as suitable for carry on use.
Hire a system from us and you can put your hire fees back against a purchase. See our 'Try Before You Buy' section on our web site for full details.
We have collection and drop off facilities in London and run regular try out sessions at the Underwater Studios in Basildon, Essex.
Full details of our products and services can be found on our web site at
www.lightandmotionuk.com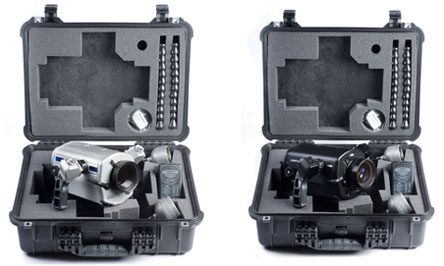 Find Light and Motion UK in
Location of Light and Motion UK