BROADCAST FILM AND VIDEO DIRECTORY
Broadcast News
01/09/2016
DekTec Unveil VF-REC v3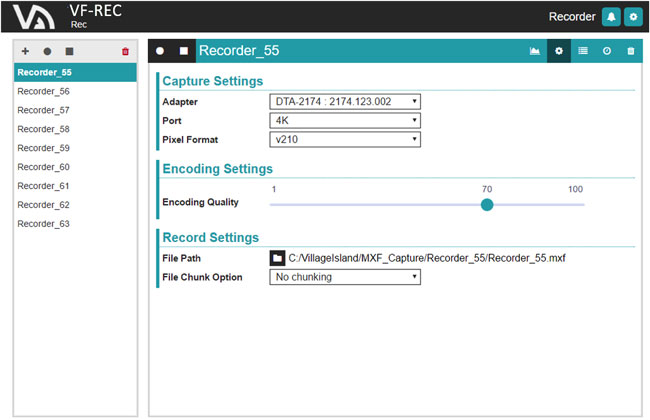 DekTec, alongside Village Island, have unveiled the VF-REC v3; the latest version of the VF-REC application used for recording of transport streams and SDI signals using DekTec's video I/O adapters.
The new release offers a GUI overhaul and introduces a 'J2K' option for JPEG 2000 compression.
Recording/playout of an uncompressed 4K video stream in a PC can be challenging due to its high bitrate (12Gbps) and requires a special hard-disk sub-system. Without considerable integration effort it is virtually impossible to record or playout 4K signals with a standard PC setup. VF–REC v3 overcomes this by incorporating JPEG 2000 compression technology from Comprimato.
It applies real-time visually lossless compression of 4K video, reducing the data rate to use a PC with a standard hard-disk setup. Comprimato's JPEG 2000 compression technology utilises the GPU resources from graphics boards provided by companies such as NVIDIA and AMD.
VF-REC stores the JPEG 2000 compressed 4K signal as an MXF-file (OP1a), which means the recorded files can be used by any tool supporting the OP1a MXF-file format. Version 3 also includes functionality for playing back the recorded 4K files.
The recording and playout of UHD requires the usage of a 4K capable DekTec adapter. DekTec's current flagship 4K product is the DTA-2174 (Quad 3G-SDI/ASI Input/Output adapter), with multiple new 4K products to come. As they appear, support for these cards will be added to VF-REC.
"While 4K is gaining more and more momentum, broadcast engineers need concrete and practicle solutions to archive 4K while preserving excellent video quality," explained Bernie Rietkerken, DekTec's Director of Marketing and Sales. "We are glad that with this software application from our longtime partner Village Island, and high performance video compression technology from Comprimato, we can bring an affordable solution to this problem."
Michael van Dorpe, president, Village Island, added: "We know that the DekTec board and associated Matrix API architecture offer the right functions to implement advanced real-time processing, and enable in fact much more. We saved a lot of development effort by just making good use of the smart hard- and software environment offered by DekTec."
www.dektec.com
(JP/LM)
Top Related Stories
Click here for the latest broadcast news stories.