BROADCAST FILM AND VIDEO DIRECTORY
Broadcast News
04/06/2014
The Longevity Of Every Road Is In Its Foundation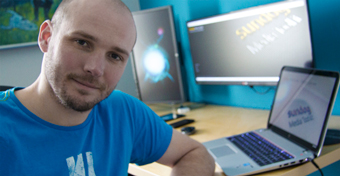 With the industry and technology developing at an unprecedented rate, the focus on education and training is becoming even more important, writes Richard Welsh, Founder and CEO Sundog Media Toolkit, LLC and International Governor for SMPTE.
"Have you got any ideas for final year projects?" This was a question asked a few weeks ago by some second year students studying the same degree course I graduated fifteen years ago. We were having lunch at Dolby's Royal Wootton Bassett office where the students had just enjoyed a hands-on demonstration of mixing for Dolby's new cinema format: AtmosTM. The students were clearly inspired.
As it happened, it was my final year project that had earned me a job at Dolby. The project was a software-based audio spectrum analyser, but it was unusual to develop software as a dissertation project at the time; the expectation on the degree was to design and build a hardware system. My first day at work found me in the factory at Dolby soldering circuits and testing with multi-meters and oscilloscopes. Had I followed the expected degree path, I would have been better prepared for the environment in which I found myself. The degree was (and is) industry-led and generated graduates who could hit the ground running. We were taught plenty of computing subjects, of course, but the general expectation at that time was that the media industry needed a hardware savvy engineer.
What should that student look like today?
This is a difficult question to answer as we find ourselves in one of the biggest changes in media generation, delivery and consumption that has taken place since the invention of motion picture.
With smart phone technology, everyone is a news gatherer with an HD camera in their pocket. With social media, everyone is a reporter on current affairs who can distribute their content (not necessarily the nice lunch you're having or your cat's latest exploits though). The cinema industry is finally completing its transition from 35mm film to digital, over a century since film's introduction.
And television broadcast, which has been in existence for almost as long, finds itself in the midst of a transition from hardware-based infrastructure to software and information technology (IT) infrastructure.
The changes in how content is created, produced and distributed necessitate changes in education strategy across the board. At the professional level, training and development is essential to maintain the industry's huge existing industry knowledge and skill base relevant in the IT age. Many programs exist including SMPTE's work on professional development and education for members.
For instance, to help engineers with traditional content creation skill sets transition to more 'connected' workflows, SMPTE began offering Cisco Certified Network Associate programs. Development courses such as these help support future environments where IP and distributed production and post are central to the workflow.
In addition, SMPTE has engaged a variety of industry experts to develop and deliver seminars covering file-based workflows and what to expect when transitioning from file-based to IP based facilities.
For degrees courses, particularly those in media technology and IT, it is essential to now address the skillset the industry needs. This means addressing the broad need to understand IT networks, hardware and software at a fundamental level as well as the art of producing great images, sound and all the essential supplementary items such as Timed Text, metadata, synchronisation.
Despite the rapid development and deployment of IT media platforms, many of the technical elements that produce a great experience for the consumer have a lot of catching up to do to match what we have achieved with traditional media technology. This is the challenge facing the industry.
For employers, it is evident there is a skills gap currently; IT and media do not meet in the middle nearly enough to fulfil the industry's current needs. In the particular case of the UK, there has been a lack of depth in school level teaching of computer technology as a result of the national curriculum.
The revised national curriculum for September 2014 onwards includes the teaching of programming and computing principles across the board, even at key stage 1 for four- to seven-year-olds. This deliberate return to teaching at the level of bits and bytes is essential to the creation of a generation of school leavers to whom the fundamentals of computing are second nature. With appropriate combination of IT and media technology at degree/higher education level we can anticipate the skills gap to narrow and close for graduates. Combined with key programs for professional development within industry, there is a bright future for education addressing the needs of our industry.
However, the impetus should now be on the media technology industry to engage with education bodies at every level, school, university and professional to drive the development of appropriate programmes to nurture and support the next generation of engineers, scientists and inventors our industry relies on.
The article is also available in RFV
online
.
(IT/JP)
Top Related Stories
Click here for the latest broadcast news stories.