BROADCAST FILM AND VIDEO DIRECTORY
Broadcast News
06/06/2013
East Coast 4K Post Facility Launched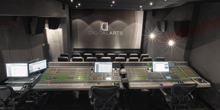 New York's Digital Arts has launched the first true-4K post production facility on the East Coast.
This the facility fuses 4K colour grading and finishing capabilities with audio technologies, enabling feature and broadcast producers to create and deliver 4K and UHD content.
"We're passionate about creative excellence, and with this next-generation facility, we're opening a new chapter in New York's long tradition for innovation," said Digital Arts' founder Axel Ericson.
"We have built an inspiring environment where experienced digital artists have the latest technology at their disposal in order to collaborate creatively with filmmakers in this new paradigm. It's a home for storytellers to develop the emotional qualities of their projects through beautifully-crafted sound and images.
"In designing these facilities I knew we had the opportunity to start from the ground up in our approach to image, sound and the creative working environment itself. Through a careful set of choices and a no-compromise approach to detail, Digital Arts sets a new milestone in New York. We are establishing new standards of excellence to fulfill the potential of today's digital production technology through our new post production infrastructure."
Digital Arts provides picture and audio finishing services for feature and TV productions within a 12,000sq/ft facility.
The company created one of NYC's first HD infrastructures and became the finishing house for TV brands such as National Geographic, A&E, ABC, Disney, and History Channel.
Digital also provided the audio facilities for sound mixer Lee Dichter to complete Woody Allen's upcoming feature Blue Jasmine.
The new realtime 4K, 2K and HD colour correction and finishing facility increases the image quality of digital cinematography.
The infrastructure includes ACES, across ASSIMILATE Scratch and DaVinci Resolve grading platforms.
The 27-seat DI theater combines a Christie 4220 4K digital projector with a 17ft 4K mesh screen, from Image Screens in Germany.
Digital Arts also provides complete workflows, including digital dailies grading, editorial, DCP mastering and LTO-6 archival.
Speaking about the capabilities of Digital Arts' new DI theater Ted Schilowitz, of RED Digital Cinema, said: "RED is paying close attention to those post production companies and DI grading and finishing houses that really understand the importance and value of true, high-fidelity post, finishing and delivery. One of those DI facilities is Digital Arts, right in the heart of NYC. It's great that Axel and his team are driving the technology with a full-on 4K DI grading bay, that can also serve the needs of those shooting RED today and deliver both HD and 4K versions with the same toolset."
www.digitalartsny.com
(IT/CD)
Top Related Stories
Click here for the latest broadcast news stories.