BROADCAST FILM AND VIDEO DIRECTORY
Festivals, Events & Exhibitions Sponsors

Professional, quality, cost and time efficient design, management and manufacture services for festivals, live events and exhibitions.
Festivals, Events & Exhibitions Companies
In County Londonderry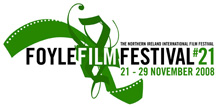 21st Foyle Film Festival Friday 21-Saturday 29 November 2008 The Foyle Film Festival is the flagship project of the multi media Nerve Centre. The key elements are its...