Few car museums in the world can match the unique collection of the world renowned National Motor Museum at Beaulieu.

Managed by the National Motor Museum Trust, Beaulieu is also the home of the world famous Beaulieu International Autojumble and Automart.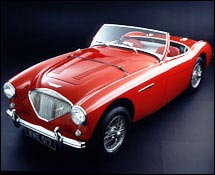 Whether your interest is as an individual, a motor enthusiast, or as a member of an interest group or educational party, when it comes to cars, motorbikes, commercial vehicles, motoring eccentricities and memorabilia, the National Motor Museum is firmly in the driving seat.

With the Collection now comprising some 250 vehicles - from some of the earliest examples of motoring to legendary World Record Breakers like Bluebird and Golden Arrow - you are sure to find something to fascinate you.

While this web site will give you an impression of what is available, you really must pay us a visit to experience this unique collection for yourself ...