Jeff Goodman: Award Winning Cameraman.
TV Documentaries, Science, Features. (http://www.jeffgoodman.co.uk)
All video and film formats
Commercials
Lighting Cameraman
Underwater Cameraman
Aerial Cameraman
Wildlife Cameraman
Presenter led programming

Jeff also runs Video and Editing Courses for beginners up to professionals.



Jeff has filmed across the globe in many different habitats for;

BBC, Discovery, National Geographic, and many others Click here
---
A Guide to
UNDERWATER WILDLIFE VIDEO & EDITING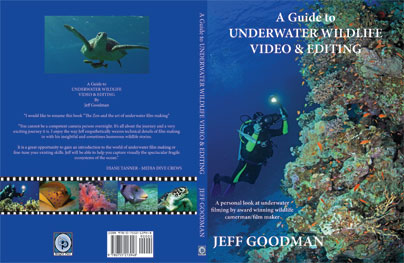 156 Pages – 53,030 Words – 300 Colour Images
Book size 255 x 188 mm Paperback
An exciting new look at the art of making underwater wildlife films. This book some has something for everyone from the complete beginner to the semi-professional.
Throughout the book, Jeff shares some of his more poignant experiences from filming on location. His stories explore our relationships with the natural world and our place within it. His love of the oceans is evident throughout and so encourages any reader to look at the marine environment as a unique and magnificent ecosystem.
Available to order from all good bookshops and all internet bookstores such as Amazon, or direct from the publisher priced £19.99
www.authorsonline.co.uk
Email:
bookorders@authorsonline.co.uk
Tel 05600 492384
ISBN 978-0-7552-1394-8
---