We are a small facilities company based in Windsor in a prime location within an hour from all the major studios in and around London. If you require a costume vehicle, make-up split or a Location van, or through our partners a Double Decker Diner or a Honeywagon give us a call! You will also find other useful information such as vehicle sizes, specs, and contact details etc.

We have a fleet of specifically designed and built in house mobile production location trailers with 2 to 4 position make up costume splits.


Our vehicles have been constructed using a combination of experience and we talk to our customers to meet their requirements, resulting in some of the finest location trucks for Outside Broadcasting, Promos, Media, Stills, Commercials and T.V. or events.

As a small company we are totally committed to provide the best possible service at every point to all our customers, so feel free to contact us any time if you require a location truck - give us a call - we look forward to assisting you on your next production.

Call Paul on 077 33 3 92344 or 0208 945 5728 for any more info.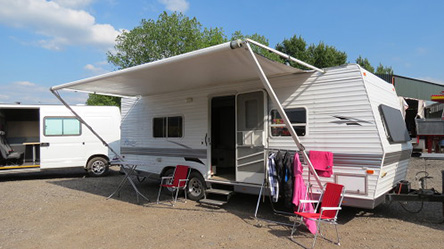 The Prowler
This trailer just been built this due to the demand for a smaller split trailer on the fleet. This unit has been designed with a rear wash room and kitchen area, front adjustable costume hanging rails with up to 40 foot of hanging space with lock downs to stop the costumes falling off the rails if traveling, Twin Bright Make-up positions with LED daylight bulbs. This truck is supplied with a tumble dryer, iron and board, and fridge freezer, and hot and cold running water. This trailer can also have the hanging rails easily stored away so if you need to use it as a changing room or as an office that's no problem.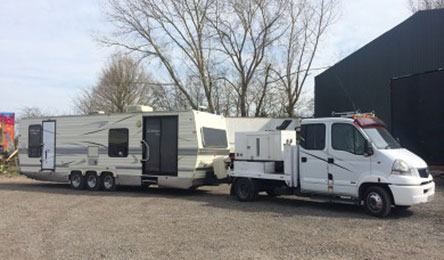 The Boutique
The Boutique is our very spacious 50/50 wardrobe split makeup truck with slide out up to 25ft of hanging rail and standard features as underfloor heating, air con and a slideout with desk and extra hanging rail for the wardrobe department. The slideout makes the wardrobe area so much wider inside and with hanging rails both sides for the costumes and the large sliding patio doors and changing area its a brighter and more roomy place to work.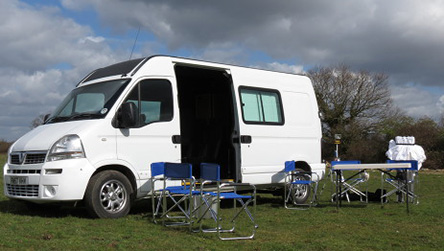 The Alpina
If your looking for a high spec small Location Van or you need to get as much as you can for your budget you've found it, with this little truck its ideal for most productions with its 5 passenger seats, and the front one swivels around so it can be used as day time office area. This is great for stills, film shoots, or even events wrapped in your client's branding.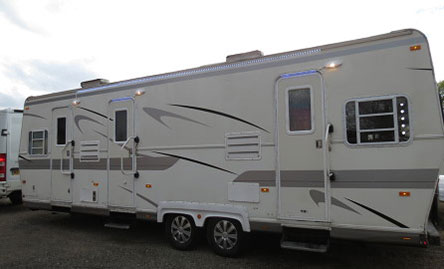 The Glamour Studio
The Glamour Studio this is our 3 position Split Make-up Trailer with up to 45 foot of front hanging space, with a costume preparation area its also fitted with a full size tumble dryer and full size washing machine, iron and board, hot & cold running water and 100 litre water tank, separate entrances for each department. This is also available with our Iveco Overflow van with extra storage for the large boxes and bags that the costume department always have so you maximise the space in the split.