BROADCAST FILM AND VIDEO DIRECTORY
Company:
Event Services S.W Ltd.
Contact:
Stuart Hynd Director
Address
Units 7 & 9 Gallows Park,
Millbrook,
PL11 3AX

About Event Services S.W Ltd.
Event Services seek to offer the most professional, best value, customer-focussed, hire, sales or service package available locally or nationally.
We know that this is a very tall order, however it is not only our sincere ambition, but a business ethos enacted every working day.
Event Services have a very extensive range of staging, performance lighting, sound systems, stage drapes, plasma screens and data projection available for hire.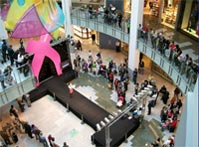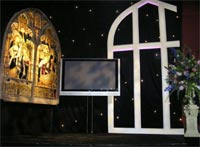 Our many years of successful, on time, on budget events organised and created by our own team of helpful, dedicated, experienced professionals can be harnessed by you to guarantee the right outcome for your Event.
Our attention to detail and artistic (as well as technical!) ability is second to none. You can be assured that your event or enquiry will receive our full focus, regardless of the size or budget. From a business meeting, society wedding or even the village panto your function will be slick and professional with as much wow factor as your imagination (and pocket!) allow.
Specialising In
Outdoor Covered Stage Hire
Events and Exhibitions
Weddings
Catering Hire
Scenery

Design & Installation
Servicing & Repairs
Red Carpet Hire
Aluminium Staging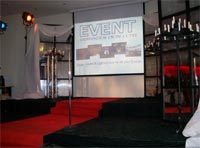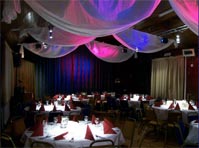 Hire Services
Event Services has an extremely comprehensive and diverse hire department catering for the theatre, presentation, conference and wedding industries.
We offer complete stage set, drapery, starcloths, rigging and trussing, modular staging systems hire, lighting hire, followpot hire, sound hire, plasma screen hire and data projector.
Tables and chair hire, cutlery hire, crockery hire, catering equipment hire. A fully equipped 12 x 8 metre outdoor covered stage hire, outdoor lighting hire, Public Address system hire and of course kitchen sinks!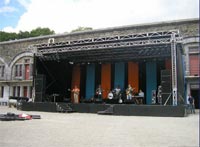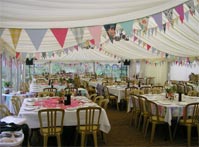 Find Event Services S.W Ltd. in
Location of Event Services S.W Ltd.

Park Royal Studios offer six blank canvas studios that are adaptable to any photographic or film shoot, pop promo or commercial.

World Premiere event performance & Production:
Live Performance Acts
Creative Directors / Design
Choreographers