BROADCAST FILM AND VIDEO DIRECTORY
Company:
Showtech Sound & Light Design
Address
Unit 15, Dodswell Bridge Industrial Estate,
Hinckley Business Park, Brindley Road,
Leicestershire,
Dodwells Bridge Industrial Estate,
LE10 3BY,
UK

About Showtech Sound & Light Design
Based in Hinckley, Showtech Sound & Light Design is an event production and equipment hire company. The company offers services which include sound & lighting design and event management as well as a huge amount of high quality well maintained equipment which can be hired. The team at Showtech are well trained and professional they work closely with all clients to ensure each and very projects goes as smoothly as possible.
Find Showtech Sound & Light Design in
Location of Showtech Sound & Light Design
Related Companies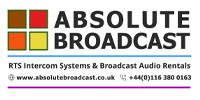 Related News