Welcome to AVA Television and Film Services Camera Crew Dublin Ireland XDCAM Hi Def



Fully HD equipped with Canon C300 and XD-Cam (Sony PDW 530), Joe McKeever is a Lighting Cameraman with over 20 years experience of lighting and shooting television programmes and corporate/commercial material.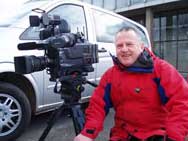 Extensive contact network in Ireland covering all areas of production and post production including sound recording, electrical services, mobile satellite links, editing, sound mixing, grading and transfer.

Extensive knowledge of transportation and accommodation in Ireland.

Systems ready to go for all sizes of crewing from one person news-type operation, complete with sound, upwards.

To contact us please call or send a text to +353 87 264 5875.