BROADCAST FILM AND VIDEO DIRECTORY
Company:
Progressive TV-Lighting Cameraman London UK
Address
London UK,
UK

About Progressive TV-Lighting Cameraman London UK

James Saligari
is a Lighting Cameraman with over 20 years experience in the television and film industry. He has shot in over 80 countries worldwide on a diverse range of projects including docs, comedy, corporate films, commercials, LE and pop promos.
Personalities are always important on a shoot, and James is the rock. He gets the results time and time again under pressure and in the most demanding environments, and will always go that little bit farther to 'get the shot'.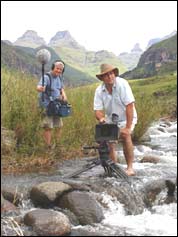 James has great sense of adventure, and that, coupled with his tireless passion for lighting, makes him a proven asset to any crew. His empathy with contributors, his ability to interpret a brief and his creativity inspire magical work.
As well as working as a lighting cameraman, James has extensive experience of supplying kit and crew to the industry. He prides himself on matching the right crew to the job and understands well the demands that need to be met in television production. James' specialist knowledge of HD as well as other digital formats resulted in him setting up Progressive Television in 2004 to provide top quality crew and kit to the broadcast industry.
Born in Australia, James has been settled in the UK for 16 years and holds both British and Australian passports and a 5yr US I Visa.
Find Progressive TV-Lighting Cameraman London UK in
Location of Progressive TV-Lighting Cameraman London UK

Sony PMW 500/700 and HD Cameraman and specialists in Camera Crew Hire, Film Crew Hire, Polecam Hire and Corporate Video Production Services - Bristol, UK.

Hire a cameraman provides professional camera crews for broadcast and corporate work across the world. Call us now for a quote.

CREW IN MOTION is a production company dedicated to providing you with the highest standard of television and commercial production services in Spain.
TV Camera Crews
Commercials
Outside Broadcasting Crews