Random42 is the world's premier medical animation company. Over the past 20 years we have created over 350 mechanism-of-action (MoA) animations for the world's leading pharmaceutical and biotechnology companies and won over 100 industry awards.

With 3D animation we can fly around a virtual human body. As viewers, we can travel with red blood cells along arteries to explore cardiovascular concerns, or down the airways and into the lungs to illustrate respiratory issues. We can observe the functioning synapses of the brain or watch cells divide. When a drug enters the scene, we can see for ourselves how it interacts with the complex mechanisms of the human body.

When a drug enters the body we can first see it from the exterior perspective of a transparent human, and then from within, as we follow the drug's effect on particular organs, onwards to the cellular level, and finally to intracellular level. Our scientific knowledge and experience within the field ensures that our animations are detailed, scientifically accurate and pitched at the right level for the target audience.

3D medical animations for pharmaceutical drugs
Our animations serve as both a promotional and educational tool to heighten the profile of a company's drug or research program. The primary use of such animation is for the global launch of a product or drug. Such animations can be used as a powerful visual aid at conferences, where DVD duplicates can be conveniently packaged and handed out to delegates.

Our animations can also be integrated into websites to promote the use of a drug to a wider audience. For example, animations can be utilised within a pipeline page found on a company's corporate website. This can transform such pages from a flat list of drugs and research programmes into an interactive experience for the user.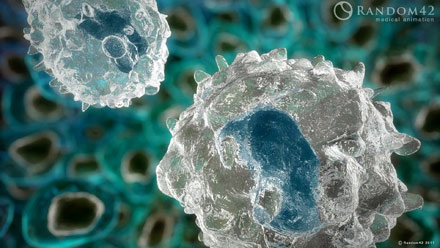 Mechanism-of-action (MoA) animations
A medical animation will typically be 4min - 8min long and has music, sound effects and documentary style commentary (in multiple languages if required), which will seek to explain the MoA of a particular drug. The final animation can be projected onto screens at exhibitions and meetings, played from DVD players on both TV screens and computers. We can output to PAL, NTSC, HD and 3D Stereoscopic.

There is also the added benefit of being able to re-purpose our high definition animation and images which increases the return on investment for the project.

They can be used without additional costs for:

Trade shows
Medical meetings
Sales training modules
Internet usage
Video podcasts
Detailing + e-detailing
DVDs for healthcare professionals/investors/patients
High definition images for printed materials (brochures/detail aids/posters
Embed for Blackberry, iPhone & iPad use
PowerPoint presentations


Our showreel is available at Random42 Medical Animation